Summer is here and it's time to find fun activities to keep the kids busy, as well as plan family outings, date nights, and evenings out with friends. Don't worry, Estancia Group has you covered! We are all moms and understand what other moms go through when planning everything and we hope to take that burden off of you. There are so many options for kids of all ages whether it is indoor events or outdoor events. We've even got you covered with fun for just the grownups!
Kid Friendly for 9 or younger:
1. The Crayola Experience in Plano is a great place to learn about crayons, create your own color and engage in different Crayola experiences. You can also get a membership and have access to some extras. Check out the Crayola Experience website for more information.
2. The Perot Museum in Dallas has tons of hands-on experiences. I took my younger kids there when they were 4 and 5 years old and enjoyed every bit of it. Your older kids can run a 40-yard dash race against animals like T-Rex, Great Whites, cheetahs or athletes like Usain Bolt. One thing to note is it will take you at least 2 hours to go through it all, so plan accordingly. For more details and limited exhibits check out the Perot Museum website.
3. The Stockyards in Fort Worth is a must walk around with the kids. At 11:30AM and 4PM they have a cattle drive that the kids can watch, rodeos that take place all year round, cattleman maze and more. I have taken my kids to the maze and they love it. They try and race with my niece and nephew (boys v. girls). Check out the Stockyards website for more information and tickets for the rodeos.
Kid Friendly for those 10 and up (some younger kids can also enjoy):
1. Tornado Terry's is a locally owned North Fort Worth business where you can play old school video games. It is known as the "Original All You Can Play Free Zone". Come out and play some Pinball, Pac Man, Galaga, and many more. Find out prices and more information at Tornado Terry's website.
2. Go Ape Adventure in Plano is a must to take for children 10+. This adventure park is on more than 80 acres with a 28 feet tall wooded canopy, more than 40 zipline crossings and 8 miles of ziplining and trails. Go to Go Ape Adventure to book your visit now.
3. K-1 Speed in Arlington will allow your older kids to let their competitive nature go to town. Book summer birthday parties there or just take your kids and their friends to enjoy some indoor go cart riding. Visit K-1 Speed to get more information.
Date Night, Girls Night or Night out with Friends:
1. Grapevine Wineries are a must visit. There are so many to choose from, but Umbra Winery is one that one of our team members has visited and love. These wineries bring the Hill Country feel to DFW area. Check out the list of Grapevine Wineries.
2. Marty B's in Bartonville has indoor/outdoor and rooftop patios. They host live entertainment on the weekends, have cornhole boards, s'more stations and different menus for inside and outside. It is a place to go with or without the kids. Go see Marty B's for a list of entertainment they have scheduled.
3. Museum of Memories is a perfect girl's day/night out or for a date. Go back in time and see all the memories flooding back from childhood (or for those not born yet then learn something). This interactive museum is a must visit in Dallas at the Galleria Mall. Ready to book a visit check out Museum of Memories.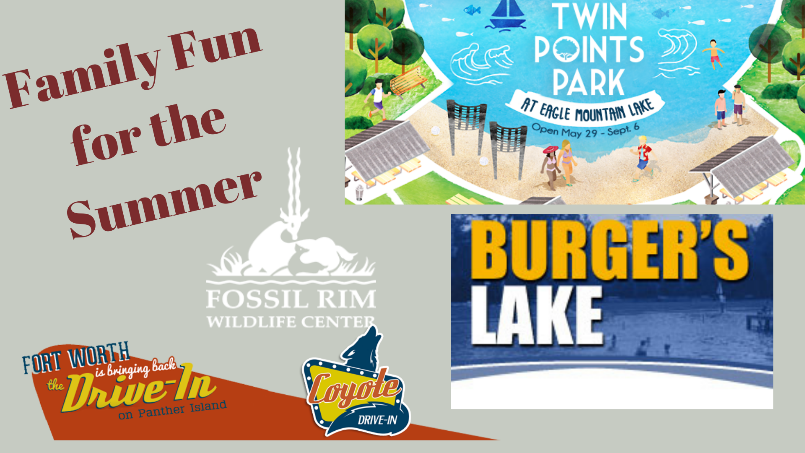 Outdoor fun for the family of ALL ages:
1. Drive in Movies during the summer are a huge hit with families. Coyote Drive-In in downtown Fort Worth has movies for all ages. They have three different screens to show more kid friendly on one, pre-teen on another and the more grown-up hits on the last. Check out Coyote Drive-In for a list of movies being played this summer.
2. Fossil Rim in Glen Rose and Sharkarosa in Pilot Point are must see wildlife parks that are non- profit organizations. Fossil Rim is a great way to be one with the animals, feed them as you drive by or take a personal guided tour. Sharkarosa is similar to Fossil Rim, just smaller. You can take a guided tour or walk the grounds to see the animals and even feed some you would like. Visit the websites at Fossil Rim and Sharkarosa for more information.
3. Ready to dip into a nice cool place to get away from the Texas heat? Go visit Burger's Lake in Fort Worth and Twin Points off Eagle Mountain Lake in Saginaw. These both give you a lake/ocean feel without having to drive to the coast. Visit Burger's Lake website and Twin Points website to get more details in cost and what is and is not allowed.
BBlog Written by Maria Vaughn, contact her today at mariavaughn@fathomrealtydfw.com
Tanya is a long-time resident of Texas who is passionate about real estate and proud to be the team lead of the Estancia Group. She is a hard worker who believes integrity, professionalism and savvy n....